At STFC, we are committed to maintaining, supporting and improving the wellbeing of our colleagues and to creating a positive culture for all. Embedded within our Human Resources department is a Wellbeing team that is dedicated to this task and who work with our senior leaders and line managers to ensure we champion the mental and physical wellbeing of our people through all we do.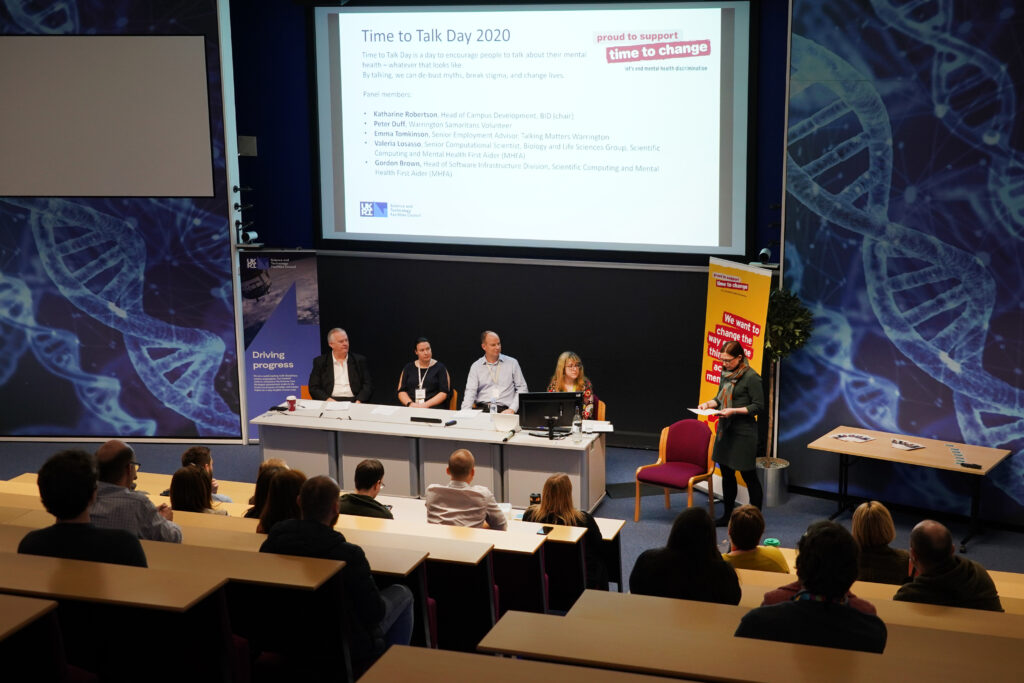 The Wellbeing team works across STFC to train employees, ensure appropriate resources are available where needed, and improve ways of working to help identify signs of stress and poor mental health. We are also here to ensure our colleagues are armed with the tools they need to maintain their own mental health. Among these tools are the ability to take advantage of flexible and remote working, volunteering days, use of nurseries where available, and privilege days. Our staff also have access to confidential counselling services 24 hours a day, 7 days a week.
We run events to support national and global wellbeing campaigns, such as World Mental Health Day and Mental Health Awareness Week, and we run internal events and conferences that aim to ensure that employee wellbeing is always on the radar of our senior managers. Whilst raising awareness of wellbeing and stigma across the organisation, these events also help us to raise money for various mental health charities.
STFC employees have access to an Employee Assistance Programme which includes access to counselling, occupational health services with provider Team Prevent, Mental Health and Suicide First Aiders, Harassment Advisers, and a wide range of site-based recreational groups and facilities to support wellbeing by running events, fitness classes, learning lunches and information sessions.
We are committed to challenging inequalities and celebrating diversity to create a workplace where everyone feels included, heard, valued and able to contribute and participate. One of the ways we do this is through our eight staff EDI networks; Carers, Disability Matters, Early Careers, Multi-faith, Parenting, Pride, Racial Inclusion and Striving for Equity (RISE), and Women's Chapter.
"For me, wellbeing is about enjoying life and our work-life is a significant part of that. STFC is known for our big facilities or science programmes, but it is the people that make it all happen. It is essential we look after our people to enable the amazing science we deliver."
Tom Griffin, Director of Scientific Computing and STFC Wellbeing Champion